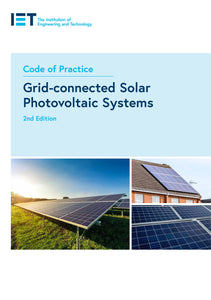 IET Code of Practice for Grid-connected Solar Photovoltaic Systems 2nd Edition
£7590

£75.90
0 in stock.
Add to cart to be put on back order.
---
---

Code of Practice for Grid-connected Solar Photovoltaic Systems
IET PIETGSPV22
Discover the essential guide for installing grid-connected solar photovoltaic systems with the IET Code of Practice. This comprehensive resource is your key to a seamless and efficient solar power installation.
Our Code of Practice ensures that your solar system meets the highest industry standards, guaranteeing safety, reliability, and performance. With clear, concise guidelines, it simplifies the installation process, making it accessible for professionals and enthusiasts alike.
Key features:
Comprehensive Guidelines: The Code covers every aspect of grid-connected solar PV systems, from design and installation to maintenance and testing.
Industry Compliance: Ensure your installation adheres to the latest industry standards and regulations.
Safety First: Prioritize safety with our detailed safety procedures and recommendations.
Optimal Performance: Maximize the efficiency and output of your solar system with our expert guidance.
Troubleshooting Made Easy: Learn how to identify and resolve common issues quickly.
Sustainability: Contribute to a greener future by harnessing the power of solar energy.
Take the first step toward a sustainable, cost-effective energy solution with the IET Code of Practice. Elevate your solar installation skills and make a positive impact on the environment. Get your copy today, and power up with confidence!
.
| | |
| --- | --- |
| Brand | IET |
| Colour | White |
| Guarantee | 1 Year |
| Isbn Number | 978-1-83953-751-6 |
| Packaging Types | Each |
| Standards | BS 7671:2018+A2:2022 |
| Title | IET Code of Practice for Grid-connected Solar Photovoltaic Systems 2nd Edition |