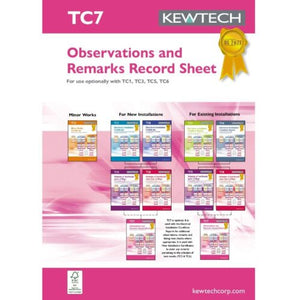 Kewtech TC7 Observation Record Sheet
£1272

£12.72
0 in stock.
Add to cart to be put on back order.
---
---

Observation Record Sheet
KEWTECH TC7
The Kewtech TC7 Observation Record Sheet is an indispensable tool for electrical professionals, designed to streamline and enhance the observation and documentation process during electrical inspections. This high-quality, user-friendly sheet offers a systematic approach to recording essential information, ensuring compliance with industry standards and regulations.
Crafted with efficiency in mind, this observation record sheet is tailored for ease of use. It facilitates quick and accurate documentation of observations, reducing the margin for error. Each section of the sheet is thoughtfully structured to accommodate critical data without unnecessary complexity.
Featuring clear headings and ample space for notes, the Kewtech TC7 Observation Record Sheet helps you record details of electrical installations, test results, and any required corrective actions with precision. It is a vital tool for maintaining accurate records and ensuring electrical safety.
Key Features:
Streamlined design for ease of use.
Clearly labeled sections for organized documentation.
Ample space for detailed notes.
Compliant with industry standards and regulations.
High-quality materials for durability.
Ideal for electrical inspections and maintenance tasks.
Don't compromise on accuracy and compliance. Elevate your electrical inspection process with the Kewtech TC7 Observation Record Sheet. Keep your records precise, organized, and in line with industry standards. Order yours today to simplify your documentation needs!
.
| | |
| --- | --- |
| Brand | Kewtech |
| Colour | White |
| Guarantee | 1 Year |
| Isbn Number | 5060084081031 |
| Packaging Types | Each |
| Title | Kewtech TC7 Observations Record Sheet |