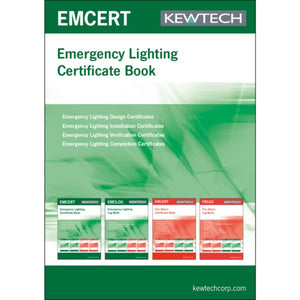 Kewtech EMCERT - Emergency Lighting Certification Book
£1272

£12.72
0 in stock.
Add to cart to be put on back order.
---
---

Emergency Lighting Certification Book
KEWTECH EMCERT
Professional Emergency Lighting Installation Certificates  
Introducing the Kewtech Emergency Lighting Certification Book - your essential companion for seamless certification of emergency lighting systems. This comprehensive tool simplifies the complex process of emergency lighting assessment and documentation, ensuring your compliance with safety regulations while saving you time and effort.
Certifying emergency lighting systems is a critical responsibility, and our Kewtech Certification Book is designed to make this task efficient and hassle-free. Packed with user-friendly features, this book is your go-to solution for documentation, inspection, and peace of mind.
Key Features:
Compact and portable design for on-site convenience.
Clear, easy-to-follow templates for accurate data entry.
Provides a systematic approach for inspections and certifications.
Handy reference guide with essential standards and guidelines.
Durable, high-quality materials to withstand everyday use.
Don't compromise on safety or efficiency when it comes to emergency lighting certification. Make the smart choice with the Kewtech Emergency Lighting Certification Book, your trusted partner in ensuring lighting systems are up to code. Keep your spaces safe and compliant effortlessly.
Get your Kewtech Certification Book today, and enjoy a hassle-free way to certify your emergency lighting systems. Order now and make safety a top priority in your facility.
This certification book includes:
Emergency Lighting Design Certificates x 2 
Emergency Lighting Installation Certificates x 5 
Emergency Lighting Verification Certificates x 3 
Emergency Lighting Completion Certificates x 5 
Periodic Inspection and Test Certificates x 3 
Total of 18 certificates and 36pges complete 
BS5266-1 Compliant 
.
| | |
| --- | --- |
| Brand | Kewtech |
| Colour | White |
| Guarantee | 1 Year |
| Isbn Number | 5060084081291 |
| Packaging Types | Each |
| Standards | BS5266-1 Compliant |
| Title | Kewtech EMCERT Emergency Lighting Installation Certificates |