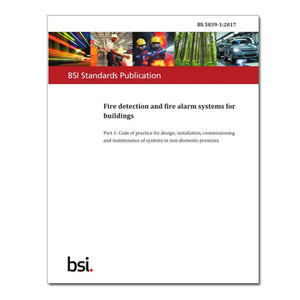 BSI Fire Detection and Fire Alarm Systems for Buildings
£36100

£361.00
0 in stock.
Add to cart to be put on back order.
---
---

BSI Fire Detection and Fire Alarm Systems for Buildings
BSI 7444
Elevate the safety and security of your buildings with BSI's Fire Detection and Fire Alarm Systems. Our comprehensive solution offers cutting-edge technology and unparalleled reliability to safeguard your premises and everyone within.
Our fire detection and alarm systems are designed with precision, ensuring early detection and swift response to potential fire hazards. With BSI's systems in place, you'll have peace of mind, knowing that you have a trusted partner in fire safety.
Key Features:
Advanced Detection: Our systems employ state-of-the-art technology for quick and accurate fire detection, reducing response time and minimizing damage.

Customization: Tailor the system to your specific needs, whether it's a commercial building, industrial facility, or residential complex. Our solutions are versatile and adaptable.

Compliance Assurance: Rest easy knowing that our systems adhere to the latest industry standards and regulations, guaranteeing your building's compliance with safety codes.

24/7 Monitoring: Our systems provide round-the-clock monitoring, ensuring constant vigilance and immediate response in case of emergencies.

User-Friendly Interface: The intuitive interface makes it easy to manage and operate the system with minimal training.
Don't compromise on safety. Protect your investments and occupants with BSI Fire Detection and Fire Alarm Systems. Invest in your peace of mind today, and fortify your buildings with top-tier fire protection.
.
| | |
| --- | --- |
| Brand | BSI |
| Colour | White |
| Guarantee | 1 Year |
| Isbn Number | |
| Packaging Types | Each |
| Standards | BS 5839-6:2019+A1:2020 |
| Title | BSI Fire Detection and Fire Alarm Systems for Buildings |